Say goodbye to dry skin!
Deeply hydrate and moisturize your skin with Oats collection. Feel soothing relief from extreme dryness, Eczema, & Psoriasis.
View Products
Gift Giving Made Easy
Not sure what to gift your friend and or family this season? Surprise them with a Skin Food Fix eGift Card!
Purchase Now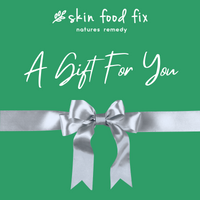 Our Newest Vegan Skin + Body Care products