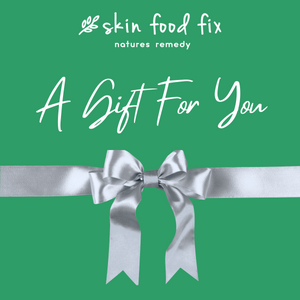 Our Skin Food Fix Gift card is an excellent gift and the perfect way to share and gift a friend or family member the "gift" of healthy skincare. 
This pretty gift card and user code is emailed to the recipient with your special gift message! You choose the day and time of the Email Delivery. We will send it twice to ensure delivery. 
Please write your special gift message on the area provided in the Cart page checkout area. Look for the words "add a note to your order"
Important:  In the Cart Checkout page, look for the words "add a note to your order".
We need the following info to be typed into this box.
1. Name of the recipient (who you are sending the gift card to)
2, Their email address
3. FROM: your name and email address
4. WHEN: When you would like us to email the recipient, day and time.
SPECIAL NOTES:
Gift Cards are good for 1 year from date recipient is emailed the Gift Card.
USA Only
Shipping is extra and your recipient will be told this in the email.
The Gift Card will have a special code that the recipient will use in the shopping cart to receive the $ money you are gifting them.