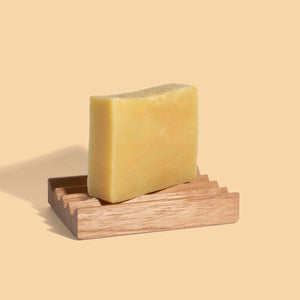 Orange Creamsicle Soap Bar AMAZING ALL NATURAL SOAP smells so amazing, words can't describe it
Non GMO + Vegan all natural hand made artisan soap 4.5 oz bar handmade weekly
If you have dry itchy skin, like I do, you know that many cleansers and products can wreak havoc on your face, am I right?
This soap is fresh, soothing, moisturizing and contains no synthetic dyes or perfumes.
I hand craft this soap weekly, due to its popularity.
Ingredients: Olive Oil, Water, Coconut Oil, Sodium Hydroxide, Organic Palm Oil, Shea Butter, Essential Oils of: Orange, Vanilla Extract,  Annatto Powder (natural color). Sodium hydroxide is used to process soap, and it disappears completely. All soaps are made with sodium hydroxide, it is the saponifaction of the oils into "soap"
To extend the life of this soap please keep it out of water when NOT is use. Alternatively you can keep it in a soap dish that has NO water in it and is OUT of the spray of the shower.
You won't believe the aroma, it is intoxicating, sweet and fresh+ a luxury thick creamy lather, it is a pleasure to shower with this soap!
NEW! A matching body-hair-room spray! Smells identical to the soap, and of course all natural, no synthetics, no alcohol, no toxins
Body Spray ingredients: Organic Aloe Juice, Organic Witch hazel no alcohol, organic essential oils of sweet orange,vanilla extract
In stock, ready to ship same day. We ship Mon-Sat
If your product arrives to you and has gotten warm in transit, simply place it in your refrigerator for an hour. Then transfer it to your bathroom for use. all natural products are not stabilized with harsh synthetics and chemicals, and so they may become soft in too warm conditions.
DISCLAIMER: *These statements have not been evaluated by the FDA. This product is not intended to diagnose, treat, cure or prevent any disease or condition. I am not making medical claims, this is not intended to treat cure or heal, I am not promising a cure. Do not insert this soap into , anus, mouth, eyes or ears. Can be safely used all over body skin.